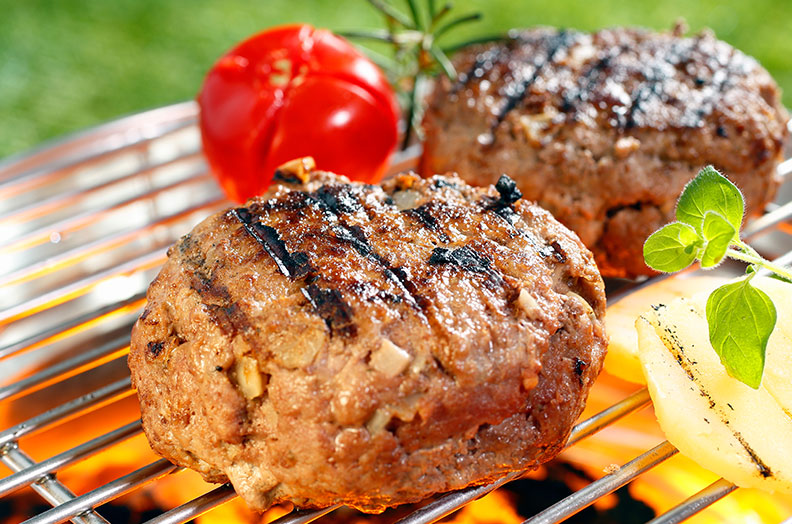 Serves 4
| | |
| --- | --- |
| 12 oz | Bacon |
| 1 | yellow onion, Julienned thin |
| 2 lbs | ground beef (I like 80/20) |
| Approximately 4 tsp | Weber® Gourmet Burger seasoning |
| 8 oz | shredded cheddar cheese |
| Weber® Buzz'n Honey BBQ Sauce | |
| Butter | |
| 4 | big hamburger buns |
Chop bacon in half-inch pieces and put in skillet over medium heat. Add the onion to the bacon and continue to cook, stirring often. We want the bacon to get nice and crispy, and the onion to caramelize and just melt into the bacon. When the bacon is nice and crispy, remove from heat and drain and set aside to cool. Now go start your grill – all of the heat should be on one side so we can use the other to cook indirectly.
Put your ground beef in a large mixing bowl and ad 4 tsp Weber Gourmet Burger Seasoning (you can add a lot more if you want)! Mix in the seasoning thoroughly with your hands and turn your beef into one big ball, then break the ball into 4 equal parts (about a half-pound each). Separate each ball in half again and make a half-inch thick patty out of each half – you should end up with 8 pretty equal sized patties.
Gently pile on your bacon/onion mixture to 4 of the patties, then add your cheese to the pile and gently push down. Now cover with the remaining 4 patties and very lovingly work the 2 patties into one big burger. This takes a bit of time, but is well worth it.
Now that you got your patties and your grill is ready, lets put 'em on the grill! We are going to cook them at 2 minutes per side over the direct heat to sear and seal then and give them a great color. Now move the burgers to the indirect heat side and baste with Weber Buzzin Honey BBQ Sauce. Toss a handful of hickory chips on the coals, close the lid, and try to maintain your temperature at about 300 degrees for 25 minutes
After your burgers have cooked about 20 minutes, butter up your hamburger buns and set them on the grill over the hot coals to toast them about 90 seconds – just keep a careful eye on them or they will burn.
After you toast the buns top your burgers with some more shredded cheddar cheese, close the lid until the cheese is melted and wonderful. Put on bun and serve! You're going to love it!