Jump to recipe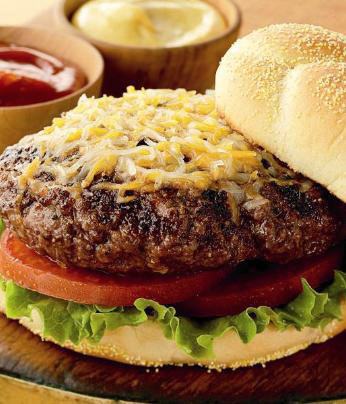 Jalapeño Stuffed Cheeseburger

Ingredients
1 cup (4 ounces) shredded Mexican 4-cheese blend, divided
1/4 cup finely diced yellow onion
2 tablespoons finely diced jalapeno chile pepper
1-1/2 pounds ground chuck (80% lean)
1 tablespoon Weber® Gourmet Burger Seasoning
4 hamburger buns
Burger toppings as desired  
Instructions
Prepare the grill for direct cooking over high heat (450° to 550°F).
In a small bowl, combine 1/4 cup cheese, onion and jalapeno.
Divide the ground chuck into eight equal portions, each about 5-inches in diameter. Divide the cheese mixture evenly among four patties. top each with a second patty and squeeze the edges together, sealing the cheese mixture inside. Season evenly with the burger seasoning.
Brush the cooking grates clean. Grill the patties over Direct High heat with the lid closed as much as possible, until cooked to medium doneness, 8 to 10 minutes, turning once or twice. During the last minute of grill time, toast the buns, cut sides down, over direct heat. Remove the burgers and buns from the grill and top the burgers with equal amounts of the remaining 3/4 cup cheese. Serve the burgers on buns with lettuce, tomatoes and your favorite condiments.