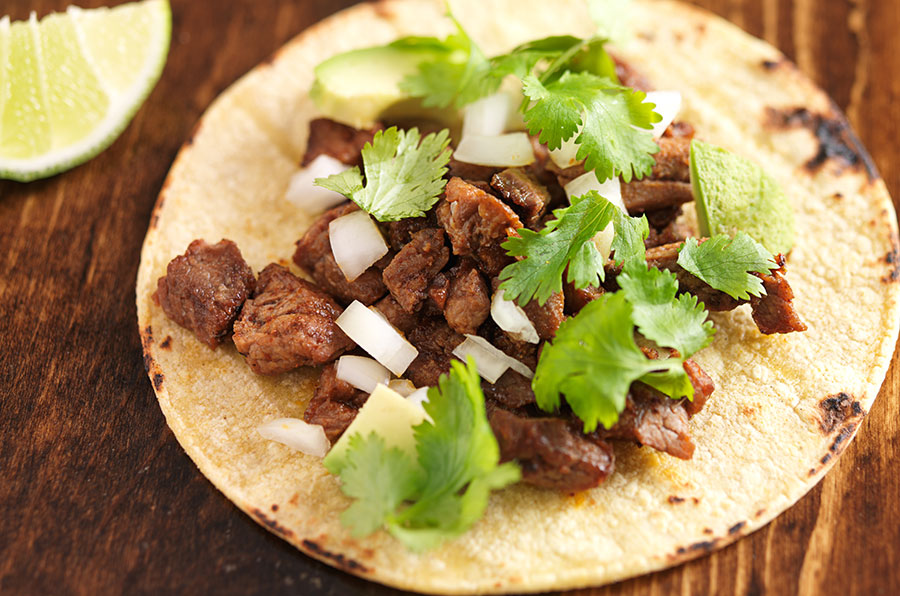 Tacos
1
skirt steak (flat iron will work)
Vegetable oil
Weber® Bold Chipotle Seasoning
1
tomato, seeded and diced
1 cup
red onion, diced fine
A handful of cilantro, rough chopped
Shredded cheddar cheese
2
jalapeño peppers
Flour Tortillas
Easy Guacamole
2
ripe avocados
2 heaping tablespoons
red onion, diced fine
1
clove garlic, minced
Half of a roasted jalapeño, seeded and fine diced
Juice from half of a lime
Tone's® Black Ground Pepper
Tone's® Sea Salt
Light your grill. We want it hot.
Unwrap your skirt steak and rub lovingly with some vegetable oil. Season the steak with a generous amount of the Weber Bold Chipotle Seasoning; cover and set aside. (We want it to reach room temperature.)
Prepare the toppings for your tacos.
For the guacamole, cut your avocados in half around the pit. Remove the pit. Score the inside with a butter knife and scoop the flesh out with a spoon. Add the onions, garlic, roasted jalapeño, and lime juice. Now stir with a fork until it's at the consistency you want. Add salt and black pepper to taste.
Rub some vegetable oil on the jalapeño peppers. Make sure your grill is hot and ready. Put the peppers and the steak on the grill over direct heat for 2 and a half minutes a side for a medium rare steak. Remove steak, and let rest for at least 5 minutes. Cook the peppers another 3 or 4 minutes, turning often until they have a nice char over them. Remove and let cool a bit before seeding and slicing. Now slice the steak about a quarter inch thick across the grain of the meat. Serve over with guacamole atop warm tortillas.