Jump to recipe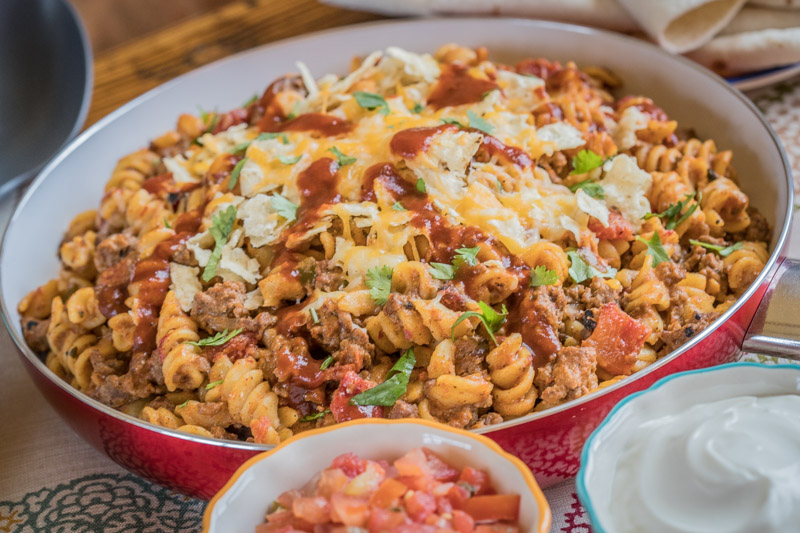 Taco Pasta Skillet

Ingredients
8 ounces (3 cups) rotini pasta
1 Tbsp vegetable oil
1 small onion, diced
1 pound lean ground beef
1/4 cup Tone's® Taco Seasoning
1/4 tsp Member's Mark™ by Tone's® Cayenne
Pepper, optional
1 can (15 ounces) diced fire roasted tomatoes
1/4 cup salsa, preferably fresh
1/4 cup water
1 small green bell pepper or 1 jalapeno,
chopped, optional
1-1/4 cups finely shredded Mexican blend cheese,
reserve 1/4 cup
1/2 cup sour cream
8 tortilla chips, crushed into small pieces
1-2 Tbsp fresh chopped cilantro
Ortega Taco Sauce
Instructions
Add pasta to salted boiling water and cook until tender; drain.
In a 12-inch skillet, heat oil to medium heat and saute onion 2-3 minutes until it just starts to turn translucent. Add ground beef and cook until meat is nicely browned; drain. Stir in taco seasoning, cayenne (optional), diced tomatoes, salsa, water, and green pepper or jalapeño, if desired. Bring to a boil; reduce heat and simmer 5 minutes.
Add pasta, 1 cup cheese, and sour cream; stir well to combine. Continue cooking until cheese has melted. Top with remaining cheese and sprinkle with crushed tortilla chips and cilantro. Drizzle with 2-3 tablespoons taco sauce. Serve immediately.