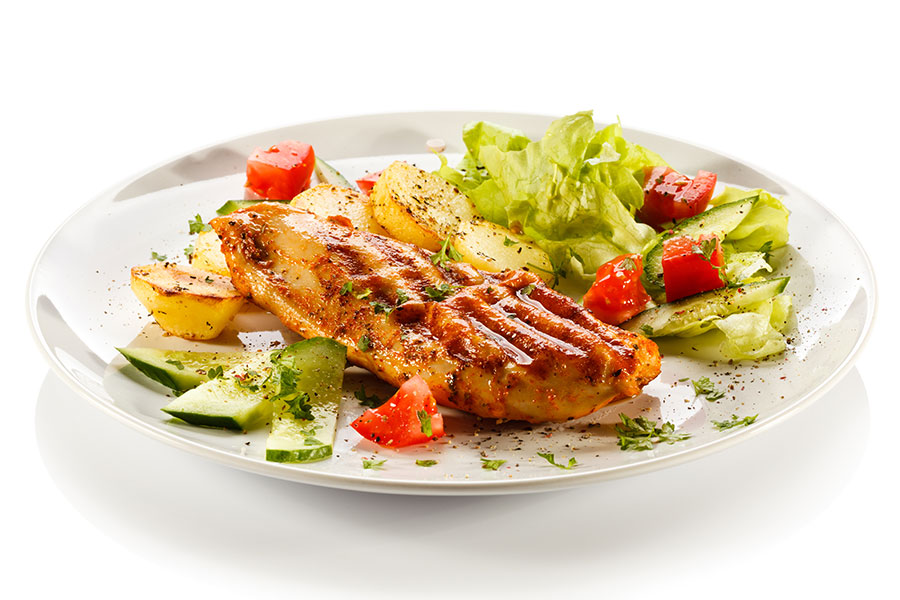 Makes: 4 servings
Prep time: 20 minutes
Marinate time:5 minutes
| | |
| --- | --- |
| 1 | medium red bell pepper |
| 1 | medium tomato, halved |
| 1/2 | small onion |
| 1 tablespoon | Mazola® Corn Oil |
| 1/4 cup | sliced almonds, toasted |
| 1 tablespoon | minced garlic |
| 3 tablespoons | chopped fresh parsley |
| 2 tablespoons | red wine vinegar |
| 2 tablespoons | capers, drained |
| 1 teaspoon | sugar OR honey |
| 4 | boneless, skinless chicken breasts (4 ounces each) |
| 2 teaspoons | Mazola® Corn Oil |
| 1 tablespoon | Weber® Carne Asada Seasoning |
Preheat grill to medium high heat.
Drizzle bell pepper, tomato and onion with 1 tablespoon oil.
Brush grill grates clean. Place vegetables directly on grates and grill until they begin to char and soften, about 8 to 10 minutes. Transfer pepper to plastic bag to steam and cool. Remove skins and seeds and coarsely chop; set aside. Coarsely chop tomato and onion.
Pulse almonds and garlic in a food processor until almonds are finely ground. Add vegetables, parsley, vinegar, capers and sugar and pulse 10 to 12 times, or until desired texture. Set aside. (Can be made up to 8 hours ahead and refrigerated until ready to serve. Bring to room temperature before serving.)
Rinse and pat dry chicken. Place on chicken plate and drizzle with 2 teaspoons oil; turning to coat. Sprinkle top side of chicken with approximately 1/2 the seasoning.
Grill, unseasoned side down, over direct medium-high heat for 5 to 7 minutes or until cooked through; turning once half way through grilling. Sprinkle remaining seasoning on chicken. Remove chicken to serving platter and let rest 5 minutes before serving.
Spoon 1/4 cup romesco sauce on individual plate; top with grilled chicken breast and additional chopped parsley, if desired.
Store remaining romesco in the refrigerator for up to one week.