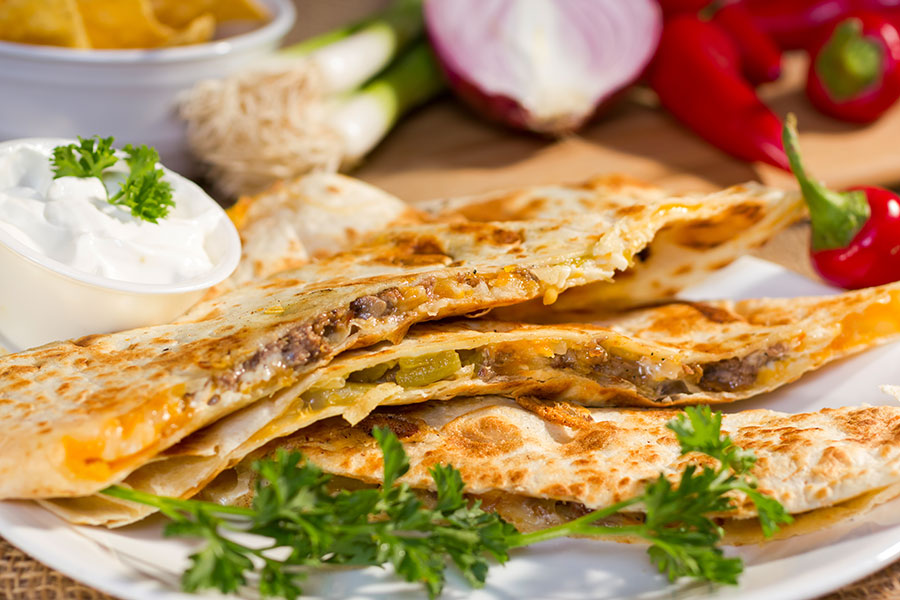 Prep Time:15 minutes
Chill Time:15 minutes
Cook Time:15 minutes
Makes:8 servings
| | |
| --- | --- |
| 1 tablespoon | vegetable oil |
| 1 pound | boneless pork chops, cut into 1/4th inch strips OR pork stir fry strips |
| 2 cups (8 ounces) | shredded Monterey Jack cheese |
| 1/2 cup | sliced green onions |
| 1 cup | black beans, rinsed and drained |
| 1 tablespoon | Weber® Carne Asada Seasoning |
| 8 | (10 inch) flour tortillas |
Heat oil in large skillet over medium-high heat; add pork and stir fry 3 to 5 minutes or until no longer pink. Transfer pork to a large mixing bowl; add cheese, green onions, black beans and seasoning. Mix thoroughly.
Place approximately 1 cup pork mixture on each of 4 tortillas; gently press a second tortilla on top. Cook one quesadilla at a time in skillet over medium-high heat for 1 to 2 minutes on each side. Serve hot, with sour cream.
Also, delicious served with Pico de Gallo.