Jump to recipe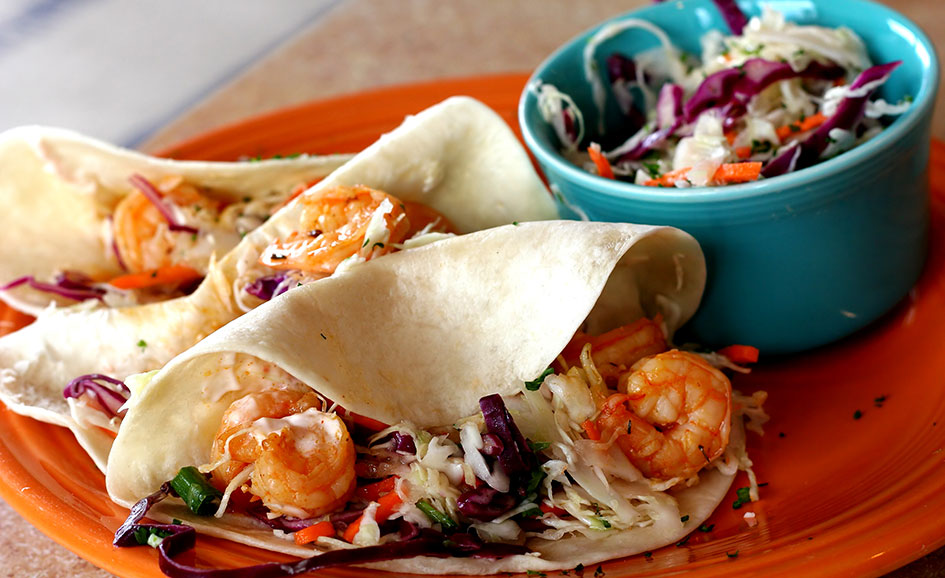 Shrimp Tacos with Pico de Gallo and Cole Slaw

Ingredients
Shrimp  
2 lb. Shrimp (16/20 count)
1 tablespoon Tone's Cumin
2 tablespoons Cooking Oil
1 tablespoon Tone's Cayenne Pepper
1 tablespoon Tone's Granulated Garlic
Tone's Salt & Pepper, to taste  
5-inch corn tortillas  
1 ripe avocado, halved with pit removed
Pico de Gallo  
1 small red onion, diced
2 jalapeños, seeded & diced
2 Roma tomatoes, seeded & diced
1 lime, juiced
1/4 bunch cilantro, chopped
2 tablespoons Tone's Cumin
Tone's Salt & Pepper, to taste  
Cole Slaw & Dressing  
2 tablespoons Dijon mustard
1/2 cup red wine vinegar
1 oz. Bacardi dark rum
1 tablespoon honey
1 cup Olive oil
1/4 head green cabbage, shredded
1/4 head red cabbage, shredded
Instructions
For the shrimp, make sure they are clean and dry. Season with Tone's Cumin and a dash of Tone's Cayenne. Heat olive oil in a medium skillet over medium heat. Then add shrimp and sauté, turning them often until they are pink and curled (but not dry); should take about 7 minutes.
For the pico de gallo, combine all diced ingredients, and then add spices, lime juice and season with Tone's salt & pepper to taste. Place in serving dish.
For the cole slaw and dressing, combine mustard, vinegar, rum and honey in a medium mixing bowl. Slowly whisk in the Olive oil. Next, add both the green and red shredded cabbage and mix well. Add Shrimp and Pico de Gallo in taco shells and serve with slaw on the side.