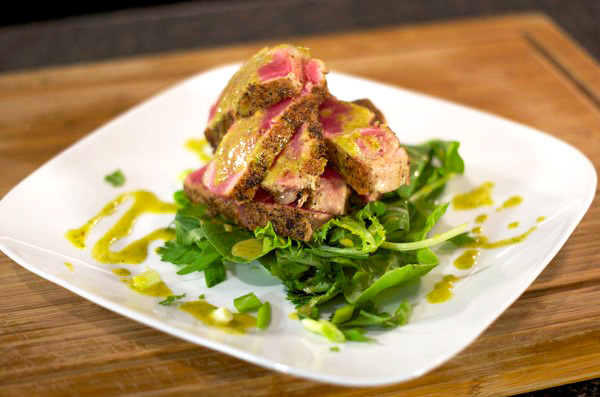 Tuna
1
tuna loin, cut into 1-inch steaks
4 teaspoons
Weber® Steak 'N Chop Seasoning
1 tablespoon
Asian 5 Spice
Corn Oil
Dressing
5
green onion stalks, chopped and divided
½ tablespoon
fresh ginger, chopped
½ teaspoon
sambal
1 tablespoon
fresh cilantro, chopped
1 tablespoon
honey
¼ cup
rice vinegar
1 teaspoon
sesame oil
Corn oil for thickening
Salad
Mixed greens, Asian mix
Fresh cilantro whole leaves
5
stalks green onion, chopped
For the tuna, preheat a medium pan over medium-high or high heat. Season tuna steaks on both sides with Weber® Steak 'N Chop Seasoning and Asian 5 Spice. Add corn oil to hot pan and sear tuna for 30 seconds per side.
For the dressing, combine all ingredients in a measuring cup and blend well with an immersion blender.
For the salad, plate the mixed greens and add whole cilantro leaves. Add the remaining green onion stalks that have been chopped. Top with tuna and dressing.