Jump to recipe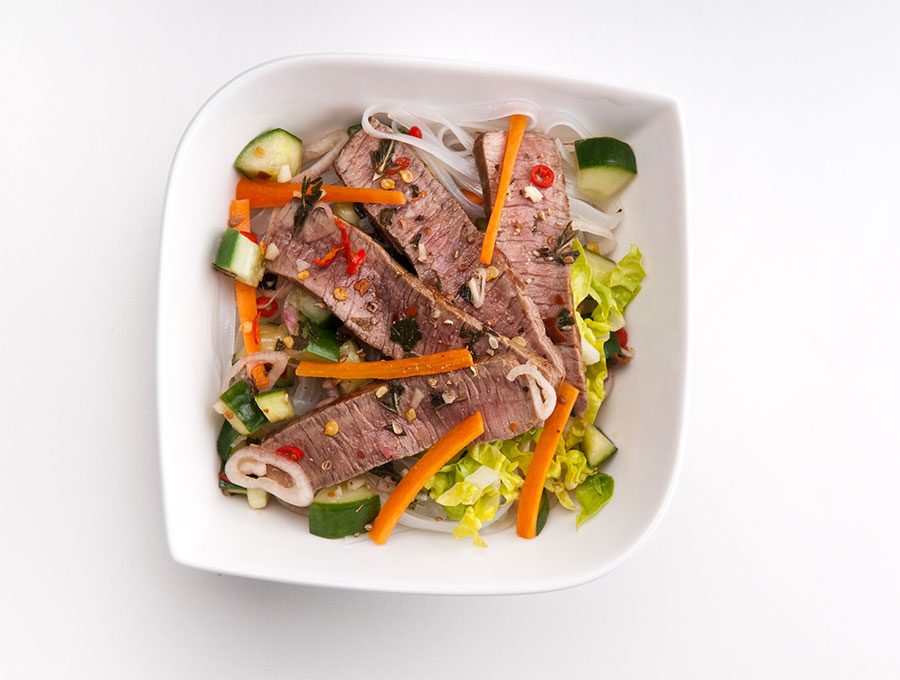 Mongolian Steak Spring Roll Salad

Ingredients
Mongolian Steak
3 tablespoons rice vinegar
2 tablespoons reduced sodium soy sauce
1 tablespoon Weber® Gourmet Burger Seasoning
1-1/2 teaspoons Spice Islands® Ground Ginger
1 teaspoon Spice Islands® Minced Garlic
1 tablespoon Mazola® Corn Oil
1 pound petite beef shoulder tender OR flat iron steak
Salad Dressing
3 tablespoons lime juice
2 tablespoons honey
1 teaspoon reduced sodium soy sauce
1/4 teaspoon sesame oil
1 teaspoon Spice Islands® Minced Garlic
1/2 teaspoon Spice Islands® Ground Ginger
1/2 teaspoon Spice Islands® Crushed Red Pepper
2 tablespoons Mazola® Corn Oil
Spring Roll Salad
4 ounces rice noodles
4 cups shredded romaine lettuce
1 cup julienned carrot
1 cup thinly sliced cucumber
1 cup diced red bell pepper
1/3 cup thinly sliced green onions
1/2 cup chopped cilantro
Instructions
For Steak
Combine vinegar, 2 tablespoons soy sauce, burger seasoning, ginger, garlic and oil in a resealable plastic bag. Add beef, turn to coat. Marinate in the refrigerator a minimum 1 hour OR overnight.
For Salad Dressing
Whisk together lime juice, honey, 1 teaspoon soy sauce, sesame oil, garlic, ginger and crushed red pepper. Slowly whisk in 2 tablespoons oil; set aside.
For Spring Roll Salad
Prepare noodles according to package directions. Drain and cool. Toss noodles with lettuce, carrots, cucumbers, bell pepper, green onions and cilantro in a large bowl. Cover and refrigerate until ready to serve.
Preheat grill to high heat.
Brush cooking grates clean. Coat grates with grill spray to prevent sticking. Grill steak over direct high heat 8 to 10 minutes for medium doneness, turning once. Remove steak from marinade; discard marinade. Transfer steak to cutting board and rest 5 minutes.
Thinly slice steak across the grain. Toss salad with the dressing and top with steak slices. Serve immediately.