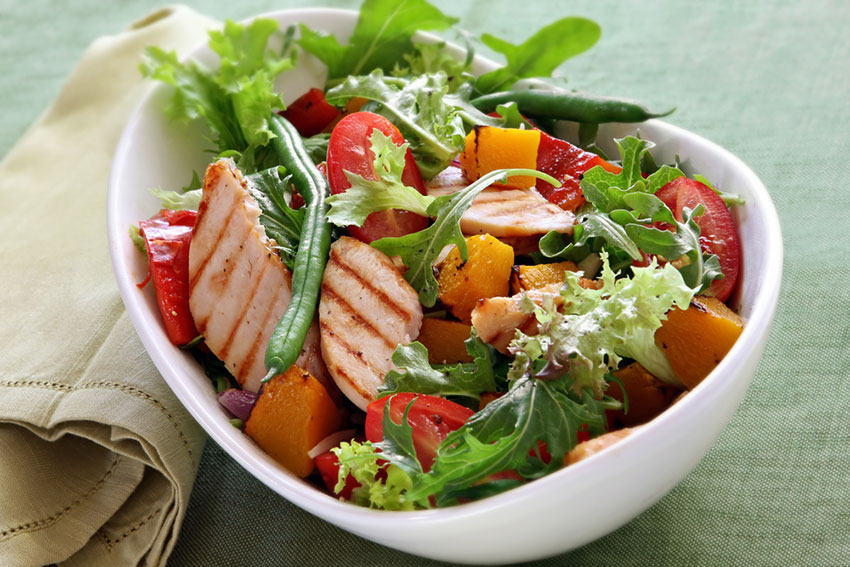 Makes: 8 servings
Prep Time: 40 minutes
Marinate Time: 30 minutes
Grill Time: 12 to 16 minutes
Kick'N Grilled Chicken
2 tablespoons
Mazola® Extra Virgin Olive Oil
2 tablespoons
Weber® Kick'N Chicken Seasoning
1 pound
boneless, skinless chicken breasts
Kick'N Sour Cream
1 cup
sour cream
1 tablespoon
Weber® Kick'N Chicken Seasoning
1
green onion, diced
Salad
2 tablespoons
Mazola® Extra Virgin Olive Oil
1
green bell pepper, chopped 1/4-inch
1
red bell pepper, chopped 1/4-inch
1/2
red onion, finely chopped 1/8-inch
1/2 can (15.25 ounces)
corn, drained
1/2 can (15 ounces)
black beans, rinsed and drained
1 head
bibb OR butter lettuce, separate leaves into cups
3
plum tomatoes, cored and chopped, 1/4-inch
1
avocado, peeled, cored and sliced
4
green onions, finely diced
Tequila Lime Dressing
1/4 cup
Mazola® Extra Virgin Olive Oil
2 tablespoons
lime juice
1/2 teaspoon
lime peel
1 teaspoon
tequila
1 teaspoon
sugar
1/4 teaspoon
Spice Islands® Fine Grind Black Pepper
1/4 teaspoon
salt
2 teaspoons
Dijon mustard
Combine oil and seasoning in a resealable plastic bag; mix well. Add chicken, turning to coat. Seal bag, marinate in refrigerator 30 minutes.
Combine sour cream, seasoning and green onions. Refrigerate until ready to serve.
While chicken is marinating, prepare salad. Heat oil in large skillet over medium heat. Add bell peppers and onion and cook for 2 to 3 minutes. Stir in corn and black beans and continue to cook for 2 to 3 minutes. Remove from heat and set aside.
Remove chicken from marinade; discard any remaining marinade. Grill chicken over Medium Direct heat for 12 to 16 minutes, turning once, until chicken is cooked through. Let rest on cutting board for at least 5 minutes; cut into 1/2-inch cubes. Add to salad mixture.
Whisk together oil, lime juice, lime peel, tequila, sugar, salt, pepper and mustard. Pour over salad and mix well.
Portion salad into bibb lettuce cups. Top with tomatoes, avocado and green onions. Serve with Kick'N Sour Cream.