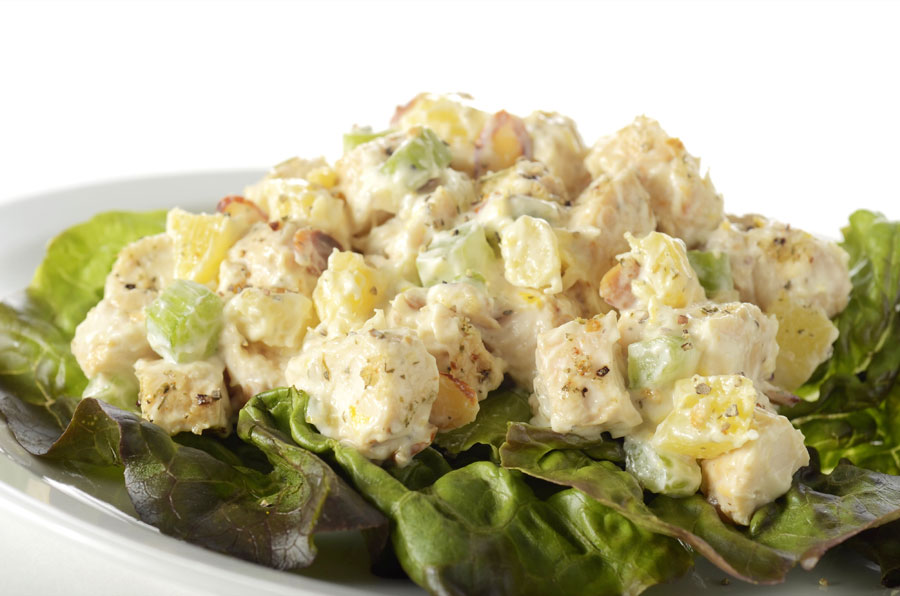 4 Servings
| | |
| --- | --- |
| 2 Tbsp | extra virgin olive oil, divided |
| 4 tsp | Tone's® Citrus Grill Seasoning, divided |
| 1 lb | chicken tenders, cooked and chopped |
| 1/3 cup | sliced toasted almonds |
| 1/3 cup | light mayonnaise |
| 1/3 cup | light sour cream |
| 1 can (8 oz.) | crushed pineapple, drained |
| ¼ tsp | Tone's® Ground Black Pepper |
| 1 Tbsp | freshly grated lemon peel |
| 2 tsp | fresh lemon juice |
| 1 | celery stalk, diced |
1. Rub chicken tenders with 1 Tbsp. oil and 2 tsp. Tone's® Citrus Grill Seasoning.
2. Heat a skillet over medium-high heat and add remaining oil. Swirl to coat pan. Place seasoned chicken in pan and sauté 3 to 5 minutes on each side, until done and internal temperature reaches 160º. Set chicken aside to cool to room temperature before chopping.
3. Add almonds to skillet to toast for approximately 5 minutes, until almonds are a light tan color.
4. Combine mayonnaise, sour cream, pineapple, Tone's® Ground Black Pepper, lemon peel, lemon juice and the remaining 2 tsp. Tone's® Citrus Grill Seasoning in a bowl until well mixed. Add chicken, diced celery and toasted almonds. Mix well and serve.