Jump to recipe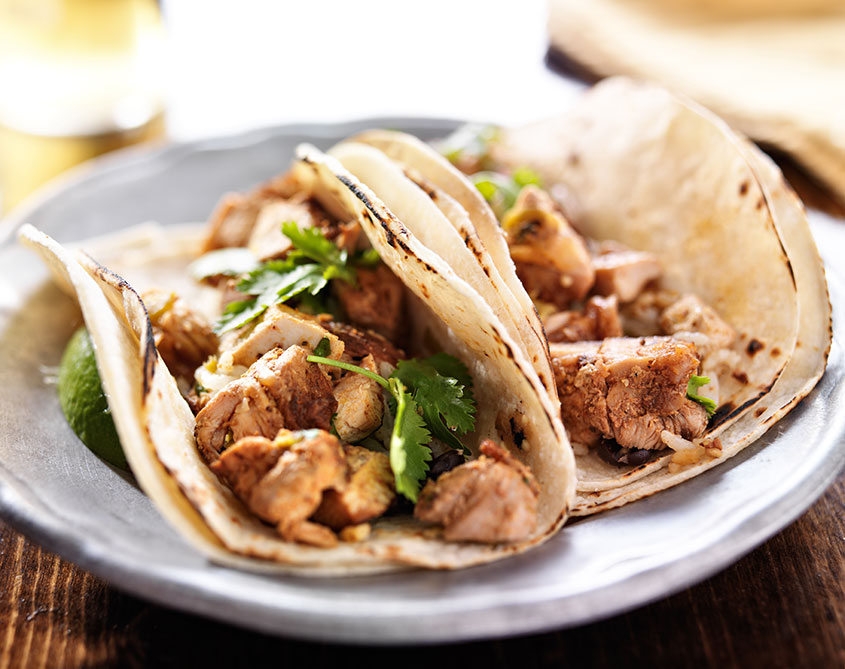 Grilled Chicken Tacos with Carne Asada Seasoning

Ingredients
1 package boneless skinless chicken thighs (You can use breast if you like, but thighs are our favorite)
Weber Carne Asada Seasoning  
Margarine
 Tortillas
1 tablespoon vegetable oil
2 or 3 jalapeños
1 bunch fresh cilantro, rinsed, dried, and chopped
2 avocados, diced
Sour cream
Shredded cheese
Pico de gallo
2 limes, sliced
Instructions
Coat the chicken liberally on both sides with the Weber Carne Asada Seasoning, set aside. Fire up your grill - we want high heat to start because we are going to grill our tortillas. That's right - we are going to grill the tortillas! This will give them a great texture, but will also add another layer of depth to the flavor.
Spread a thin coat of margarine on both sides of your tortillas and place them over direct heat, moving them and checking them often. Flip when they are golden brown. When they are all done, set aside.
While you're grilling your tortillas, you can also grill your jalapenos. Coat them with vegetable oil and place over direct heat, rolling often until the skin blisters and starts to change color. When they are colored nicely all the way around, move them off the fire but leave them on the grill.
Now grill the chicken. Put the chicken on the grill over direct high heat for just 2 to 3 minutes per side (we are just looking to sear the outside and give it some color). Move the chicken to an indirect part of your grill close the lid, and cook at 350 for 15 minutes or until juices run clear. Remove the chicken and your jalapenos from grill and let the chicken rest for 5 minutes while you chop your jalapenos. First cut the top stem off, then slice in half lengthwise use your knife to scrape all of the white ribbing and seeds out of both sides. Chop into ½-inch pieces. Now slice the chicken into ½-inch strips.
I serve this to my family like a taco bar, and let everyone assemble their toppings. Just place tortillas, chicken, cilantro, salsa, pico de gallo, chopped grilled jalapenos, shredded cheese, sour cream, and anything else you may want into separate dishes and let everyone serve themselves. Your whole family will LOVE taco night!