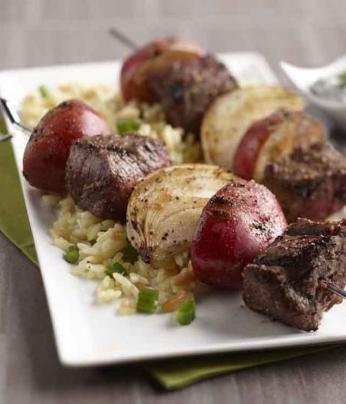 Makes: 6 kabobs
Prep Time: 20 minutes
Grill Time: 8 to 10 minutes
Blue Cheese Sauce
1 cup
sour cream
1/4 cup
crumbled blue cheese
1/4 cup
chopped green onions
1 teaspoon
prepared horseradish
1/2 teaspoon
Weber® Steak 'N Chop Seasoning
Kabobs
1 pound
small red potatoes
1-1/2 pounds
sirloin steak, cut in 1-inch chunks
1
onion, cut in wedges
Six 12-inch skewers
2 tablespoons
Mazola® Extra Virgin Olive Oil
2 tablespoons
Weber® Steak 'N Chop Seasoning
Combine all Blue Cheese Sauce ingredients and serve immediately. Or make ahead and refrigerate until ready to serve.
Pierce potatoes several times with a fork and place on a microwave-safe plate. Microwave on HIGH (100% power) for 3 to 4 minutes until potatoes are still firm but soft enough that a skewer can be inserted. Place potatoes on a plate and cool 5 minutes. Slice in half.
Alternate steak cubes, potatoes and onion on skewers*. Brush kabobs with olive oil and sprinkle with 2 tablespoons of seasoning, coating all sides.
Grill over Medium Direct heat for 8 to 10 minutes, turning once, until potatoes and onions are lightly browned and meat is desired doneness. Serve with Blue Cheese Sauce.
*Note: if using bamboo or wooden skewers, make sure to soak in water for 30 minutes before using.