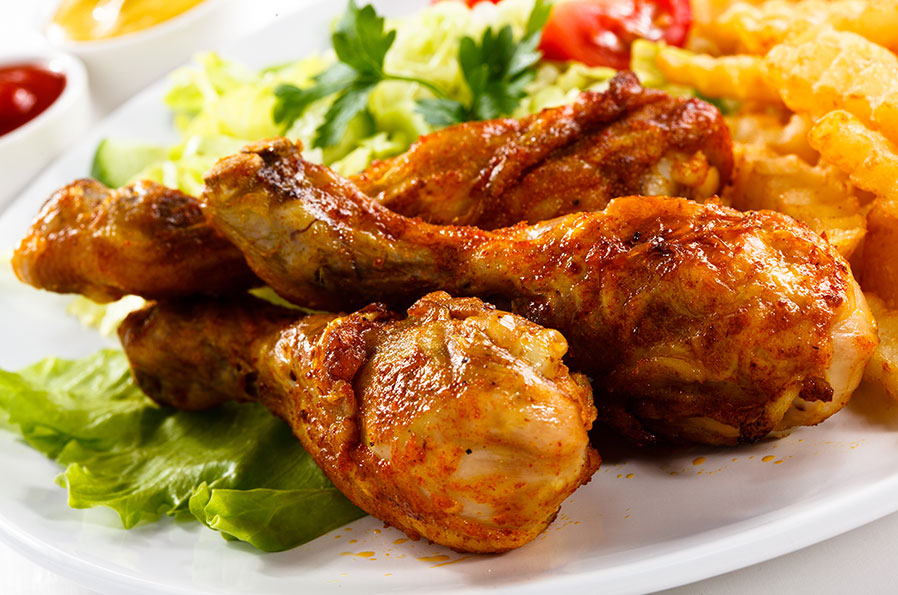 Makes: 4 servings
Prep Time: 10 minutes
Grill Time: about 45 minutes
| | |
| --- | --- |
| 8 | chicken drumsticks, each about 4 ounces, trimmed of excess fat and skin |
| As needed | Mazola® Corn Oil |
| 2 Tablespoons | Weber® Kick'N Chicken Seasoning |
| 2 tablespoons | butter OR margarine |
| 3 tablespoons | hot sauce |
| 1/4 teaspoon | Weber® Kick'N Chicken Seasoning |
| 2 tablespoons | blue cheese crumbles |
Prepare grill for indirect cooking over medium heat (350°F to 450°F).
Lightly coat the drumsticks all over with oil and season evenly with 2 tablespoons of the chicken seasoning.
Melt butter in a smalll saucepan over medium-low heat. Add hot sauce and remaining 1/4 teaspoon chicken seasoning.
Brush cooking grates clean. Grill drumsticks over indirect medium heat, with lid closed as much as possible, for about 40 minutes, turning occasionally. Then brush both sides of drumsticks with hot sauce mixture and continue cooking and basting until the juices run clean and meat is no longer pink at the bone, about 5 minutes. Remove from the grill and let rest for 3 to 5 minutes.
Sprinkle blue cheese over chicken and serve immediately.