Jump to recipe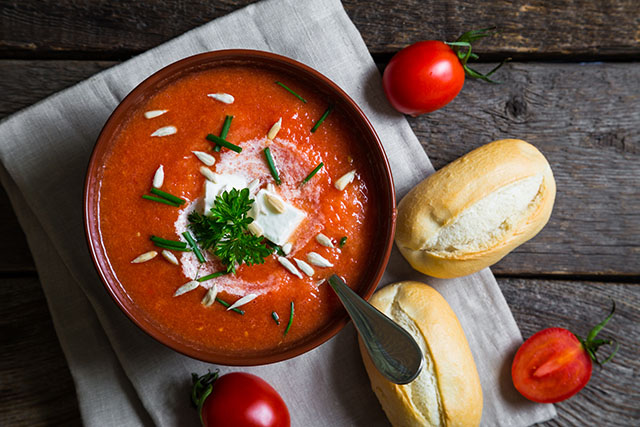 Italian Tomato Herb Soup

Ingredients
1 tablespoon olive oil, extra virgin
1/2 cup diced carrot
1/2 cup diced onion
1 can (28 ounces) diced tomatoes
2 tablespoons tomato paste
1-1/2 teaspoon Tone's Italian Seasoning Blend
yogurt OR sour cream, optional
Sage Croutons
4 slices sandwich bread
2 tablespoons olive oil, extra virgin
2 cloves minced garlic
1 teaspoon Tone's Ground Sage
Instructions
In large (2 to 3 quart) microwavable-safe bowl, combine oil, carrot and onion. Cover; cook on HIGH (100% power) 6 to 8 minutes, stirring once, until vegetables are just tender.
Add enough water to tomatoes to make 3-1/2 cups. Stir tomato mixture, tomato paste and Italian Herb seasoning into bowl. Cover; cook on HIGH (100% power) 3 to 4 minutes or until hot. Top each serving with a dollop of yogurt. Float herb croutons on soup or serve on the side.
Sage Croutons: Trim crusts from 4 thin slices of sandwich bread. Combine olive oil with minced garlic; brush on bread slices. Sprinkle with sage. Bake at 400ºF for 5 to 7 minutes or until crisp and golden, turning once. Cut each slice into 4 triangles. Makes 16 croutons.