Jump to recipe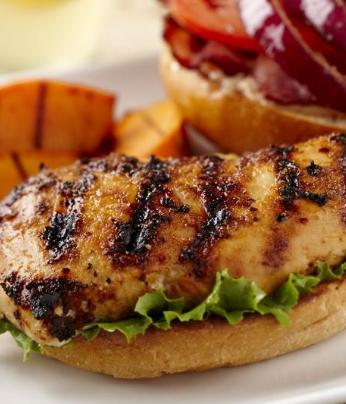 Honey Garlic Grilled Chicken Sandwich

Ingredients
Honey Garlic Spread
1/4 cup mayonnaise
1 teaspoon Weber® Honey Garlic Rub
Honey Garlic Grilled Chicken Sandwiches
4 boneless, skinless chicken breasts
1 red onion, sliced into 4 slices
1 teaspoon Mazola® Corn Oil
3 tablespoons Weber® Honey Garlic Rub
4 slices Swiss cheese, optional
4 hamburger buns OR 8 slices sourdough bread
4 slices tomato
8 slices cooked bacon
Instructions
Combine mayonnaise and 1 teaspoon rub. Refrigerate until ready to use.
Rub 2 tablespoon seasoning over both sides of chicken breasts. Brush onion slices with oil and sprinkle with remaining 1 tablespoon rub. Grill chicken and onions over Direct High heat with the lid closed as much as possible, for 6 to 8 minutes until browned. Continue to grill an additional 6 to 8 minutes until chicken is cooked through and internal temperature is at least 170°F. Remove from grill and let rest 5 minutes.
Toast buns over Direct High heat for 1 minute, until lightly toasted and browned. Place chicken on bun and top with a slice of cheese. Spread flavored mayonnaise on top bun half. Add grilled onion, tomato slices and bacon to each sandwich.
Serve immediately.