Jump to recipe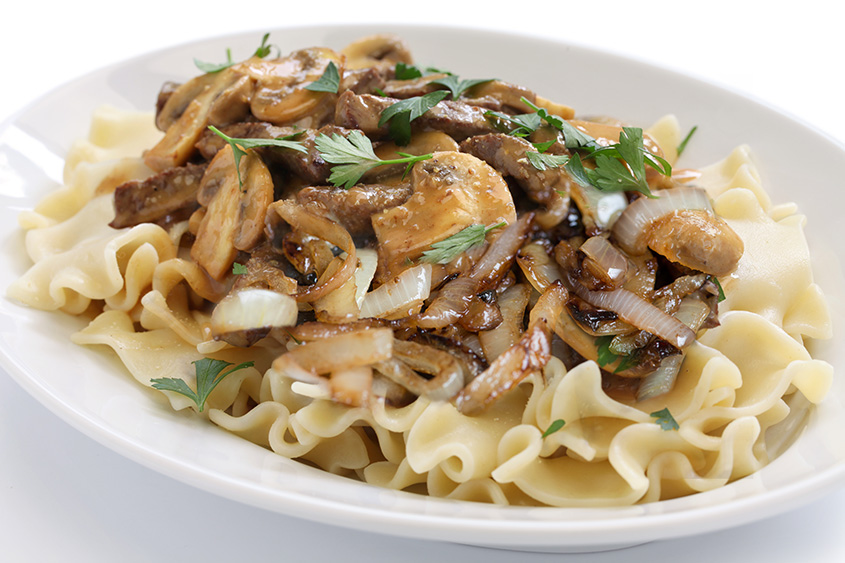 Try this for a change from your typical slow cooker beef stew!
Chuck Roast with Onions and Mushrooms

Ingredients
3-4 pounds boneless chuck roast (excess fat removed)
2 tablespoons Weber® Steak and Chop Seasoning
2 tablespoons vegetable oil
5-6 medium size onions, sliced
1 1/2 cups dry white wine, divided
8 oz. baby portobello or button mushrooms, sliced
1/4 cup Tone's Brown Gravy Mix
1 cup water
2 tablespoons tomato paste (or 4 tablespoons ketchup)
3 tablespoons Worcestershire sauce
2 teaspoons Tone's Italian Seasoning
1 teaspoon Tone's Granulated Garlic
1 (8 ounce) can beef consommé (or beef stock)
2 tablespoons cornstarch mixed with 2 tablespoons water
3 tablespoons fresh parsley chopped for garnish
Cut roast into 5-6 large pieces and coat all sides with the Weber Steak and Chop Seasoning.
Instructions
In a 12-inch pan (cast iron skillet recommended), heat 1 tablespoon of oil to high and add meat. Don't overcrowd or the meat will not brown properly. Reduce heat to medium high. Cook until all sides of the meat are nicely browned and caramelized, about 1-2 minutes per side. Transfer beef to a plate.
Heat remaining tablespoon of oil in the pan to medium high, add the onions and 1/2 cup of the wine. Saute onions 5-8 minutes or until they just start to caramelize, stirring often to deglaze the pan. Remove pan from burner to a heat safe surface.
In a medium sized bowl, combine gravy mix, water, tomato paste, horseradish, Worcestershire, thyme, rosemary, garlic, consommé, and remaining cup of wine.
Spoon half of the onions into a slow cooker and top with half of the mushrooms. Add the beef and top with the remaining onions and mushrooms. Pour in the gravy mixture, cover, and cook on high for one hour. After one hour, gently stir and reduce the temperature to low for 4 hours, stirring occasionally. With about 30 minutes cook time remaining, add cornstarch slurry*, stir, cover, and prepare noodles and your favorite vegetable side dish.
Portion meat as desired and serve over egg noodles topped with fresh chopped parsley.
*Adjust the consistency of the gravy by adding more or less of the slurry.