Jump to recipe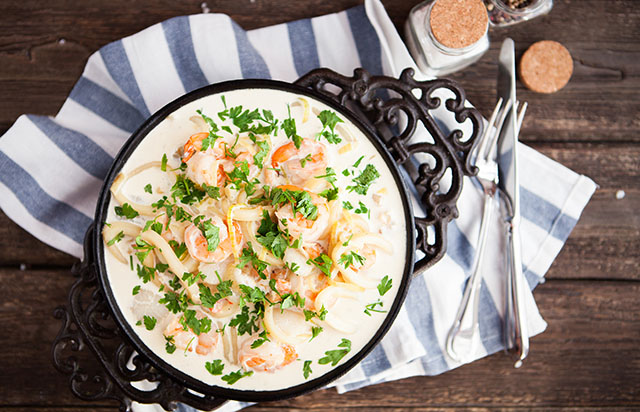 Cajun Seafood Chowder

Ingredients
4 slices bacon
1 cup sliced mushrooms
1/2 cup sliced celery
1 Tablespoon Tone's Cajun Seasoning
2 cans (14.5 ounces each) chicken broth
1 cup peeled and diced potatoes (about 2 medium potatoes)
1/2 cup water
3 tablespoons all-purpose flour
2 cups half and half
1 tablespoons pepper, black medium grind
1 package (8 ounces) tiny frozen shrimp, precooked
1 package (8 ounces) real or imitation crab meat
1/4 cup dry sherry
Instructions
Cook bacon until crisp in Dutch oven. Remove bacon and crumble; set aside. Add mushrooms and celery to bacon drippings. Sauté just until tender. Add cajun seasoning, chicken broth, and potatoes. Simmer over medium-low heat until potatoes are tender, about 10 minutes.
Combine water and flour; whisk until smooth. Gradually add to simmering stock, stirring constantly. Cook until thickened.
Add half and half, pepper, shrimp and crab. Heat through. Add sherry. Garnish each serving with crumbled bacon.