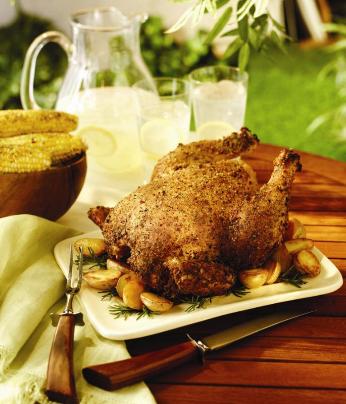 Makes: 1 whole chicken
Prep Time: 10 minutes
Grill Time: about 1 hour
| | |
| --- | --- |
| 1 | whole chicken |
| 1 to 2 tablespoons | extra virgin olive oil |
| As desired | Weber® Roasted Garlic & Herb Seasoning |
| 1 can (12 ounces) | beer OR lemon-lime flavored soda |
| 1/2 | lemon |
Lightly brush olive oil over chicken. Generously grind seasoning over all surfaces of the chicken. Pour out half the can of beer. Insert can of beer into chicken cavity, such that the chicken is balanced and the beer can is upright.
Grill the chicken over Indirect High heat, with the lid closed as much as possible, until the juices run clear and the meat is no longer pink at the bone with a temperature of at least 170°F, about 1 hour. Remove from the grill and squeeze lemon juice over chicken; let rest for about 5 minutes before carving.
Recipe tip: For easy clean up, place chicken on a shallow pan before brushing with oil and seasoning.